Ängelholmsstationssida
Ängelholm ingen aktivitet än så länge.

Den andra stationen som vi har vi lite anknytning till är.
Ängelholms station där Gunnels Mormors Far var den första stinsen.
Stationshuset är byggt av tegel så vår modell kommer troligen att göras av cellplast
där vi ritsar ut tegelmönstret i plasten på något sätt.
The second station, which we we have some connection to is .Ängelholms station where Gunnels
Great-Father was the first stationmaster.
The station building is built of brick so our model is likely to be made of foam
where we scribe the brick pattern in the plastic in any way.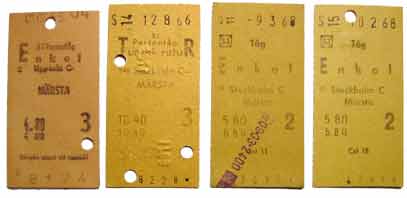 SJ:s klassiska hårdkartongsbiljetter