Senaste nytt 2012
2012 09 01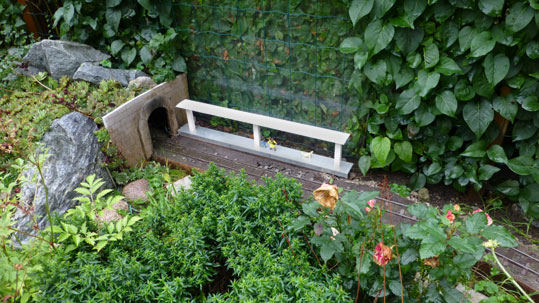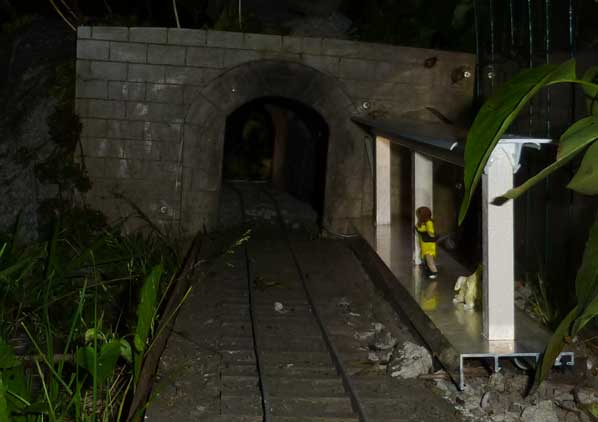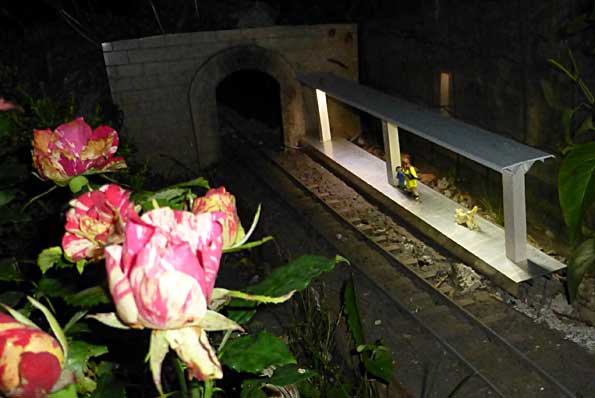 Ny perrong med samma typ av belysning som i personvagnarna
New platform with the same type of lighting as in the passenger coaches
2012 07 18
Ja det är sant, det är 10år sedan vi började förbereda banvallar och lägga spår
Yes it's true, it's 10 years since we began to lay tracks in the garden.
2012 07 20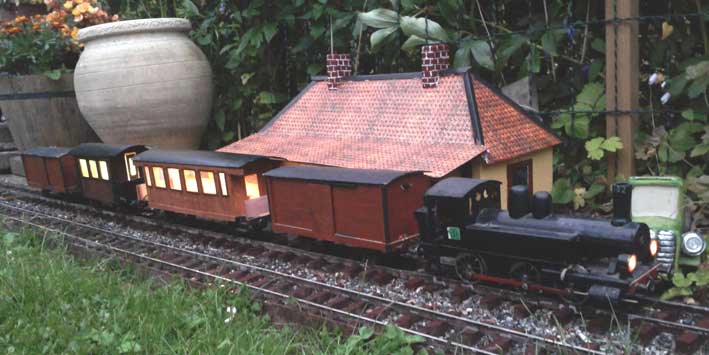 Nu har vi äntligen satt in belysning i våra personvagnar
We have finally put in lighting in our passenger coaches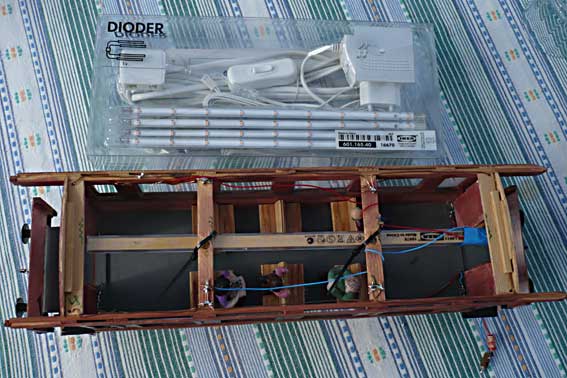 Vi har använt ledstavar från Ikea till belysning
We have used ledbars from Ikea for lighting Ikea for lighting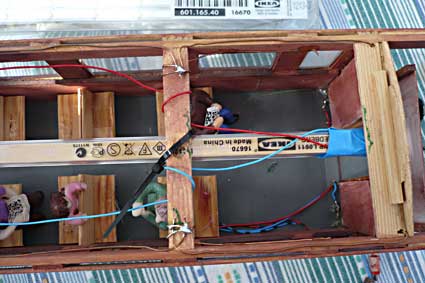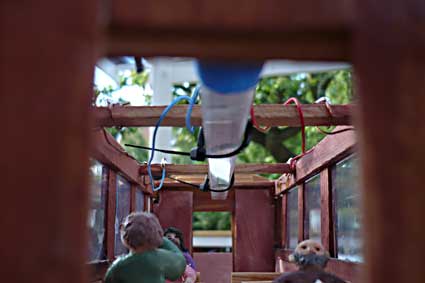 2012 07 15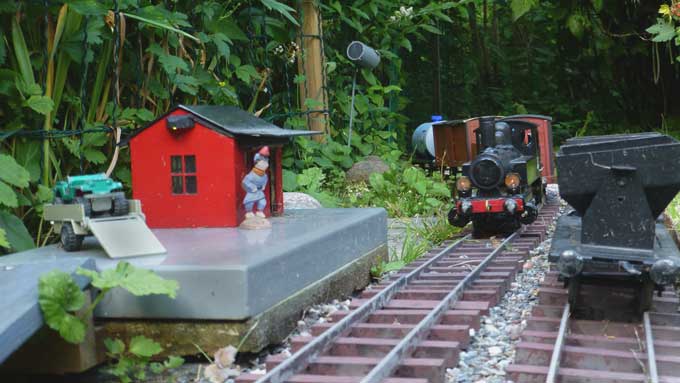 Vårt andra ånglok Nr 103an tillbaka på spåren igen efter. Batteribyte kompletterad med lyktor och åncylindrar.
Our second steam locomotive No.103:an is back on track again. After replacing the batteries, supplemented with lanterns and steam cylinders.
2012-07-13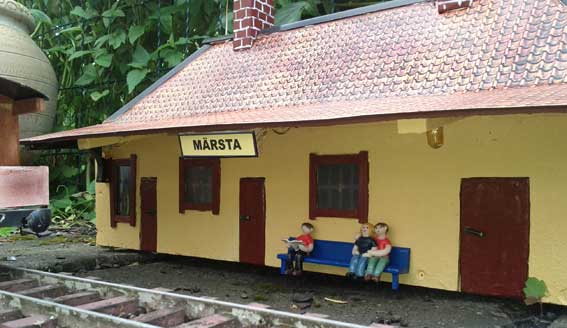 Nu har vi fått upp stationsskylt och människor på bänk.
Now we have the station sign and people on the bench.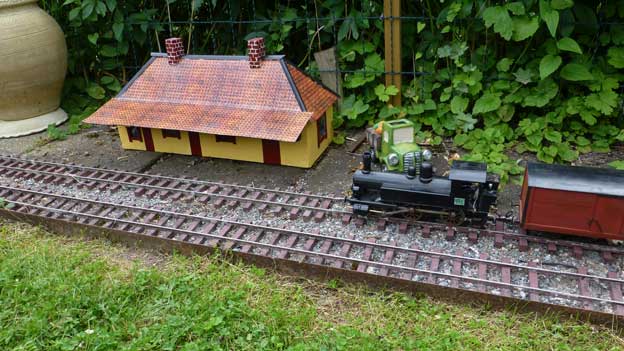 Märsta stationshus har fått en välbehövlig renovering, ommålning och nytt tak samt skorstenar
Märsta station has received a much-needed renovation, repainting and new roof and chimneys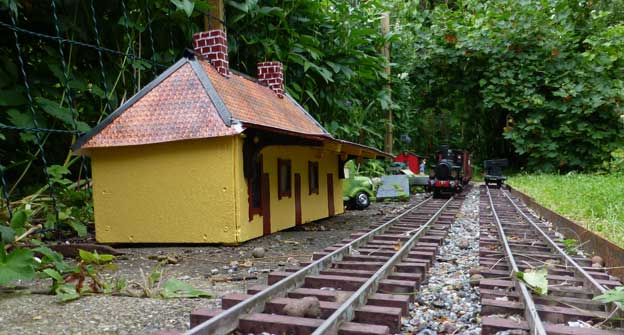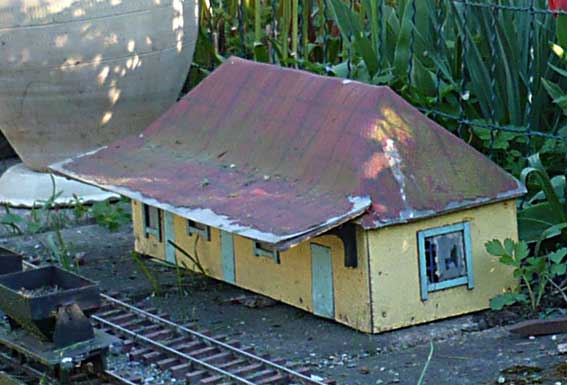 Man ser att det var behövligt
One sees that it was needed.
2012-07-03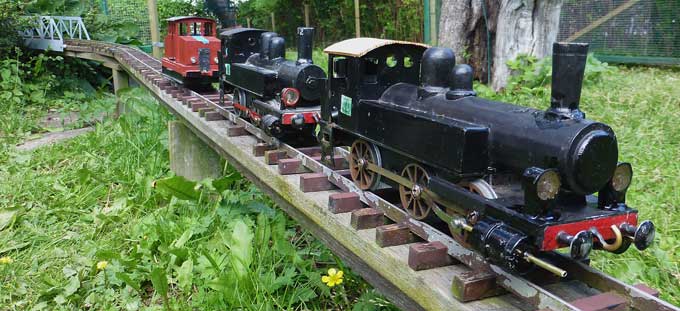 Lokparad det var länge sedan alla tre loken kunde köras samtidigt. Det brukar alltid var något som det är något krångel med.
Lok parade. It was long ago that all three locomotives could be run simultaneously. There is always a locomotive that is malfunctioning.
12-06-12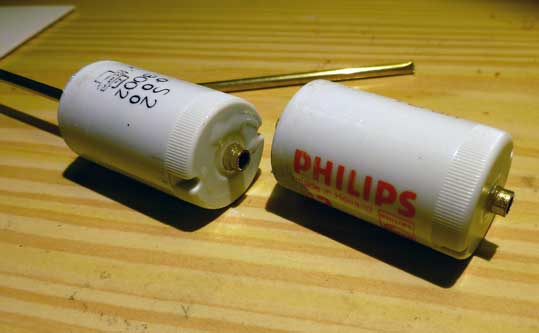 Lok 103 skall få ångcylindrar, Glimtändare till ljusrör blir alldeles utmärkt.
Locomotive 103, will have the steam cylinders: Starters for fluorescent lamps is just fine
sätts fast med buntband och limmas med 2komponents lim
Is attached with zip ties and glue with glue 2komponents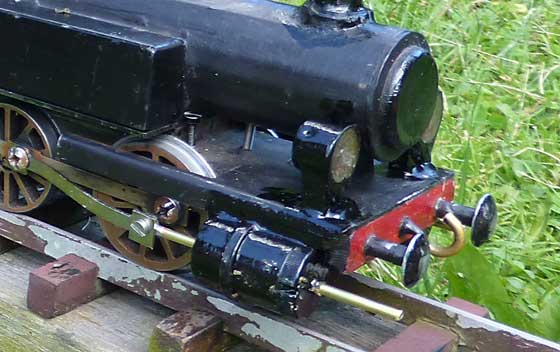 Målning mässingsrören insatta och länkarmen på skruvad.
Painting, brass tubes inserted and link arm attached.
2012-05-17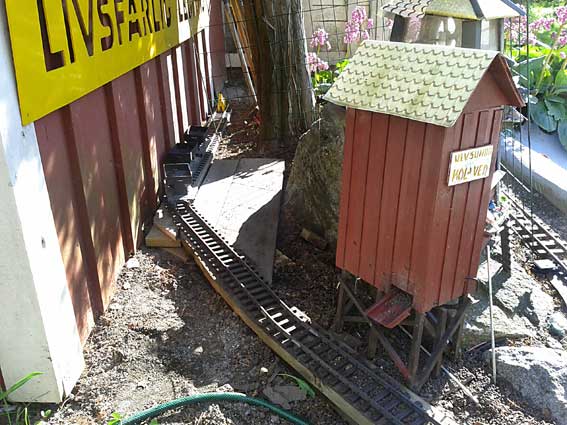 Barnbarnen tyckte det var för trångt bakom gruvan, för att kunna komma åt vagnarna . Så vi har då tagit bort det ena spåret.
samt flyttat godsmagasinet till station Märsta. '
The grandchildren thought it was too crowded behind the mine, to push rail cars..
So we have removed one track. And move the freight house to the station Märsta..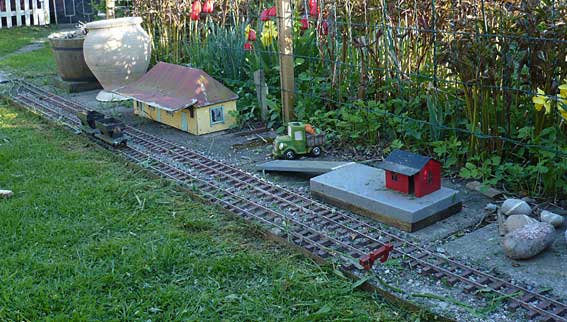 Den nya platsen för godsmagasinet, kan bli lite lättare att använda den på denna plats för våra barnbarn.
The new location of the cargo tray, can be a bit easier to use it in this place for the grandchildren.
2012-05-15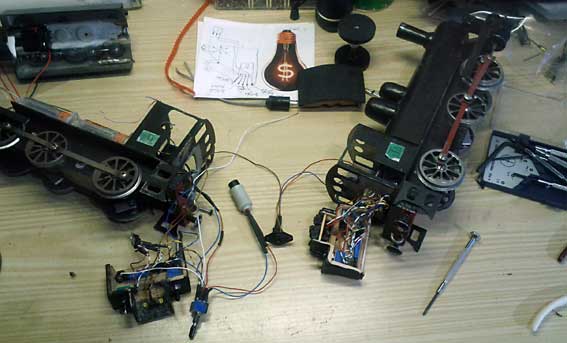 Båda loken utslagna får nog byta ut styrkretsen tyvärr massa pyssel med det
Both locomotives does not work, I have to replace the control circuit. Unfortunately lot of work with this.
2012-05-10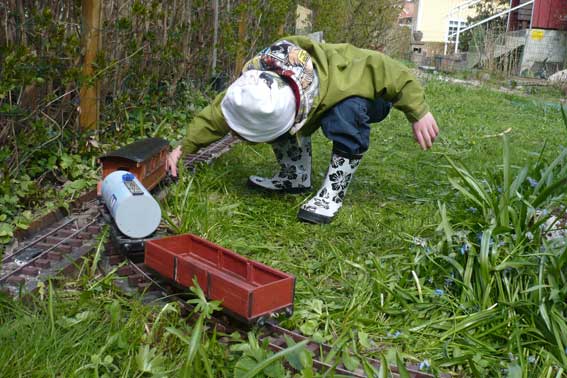 Det är en ständig kamp att hålla ogräset borta från spåren, Love ser till att spåren blir farbara
It's a constant struggle to keep the weeds away from the tracks. Grandchildren make sure that
the tracks are clean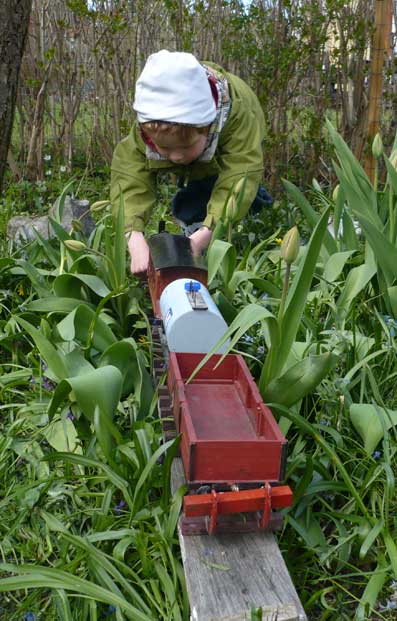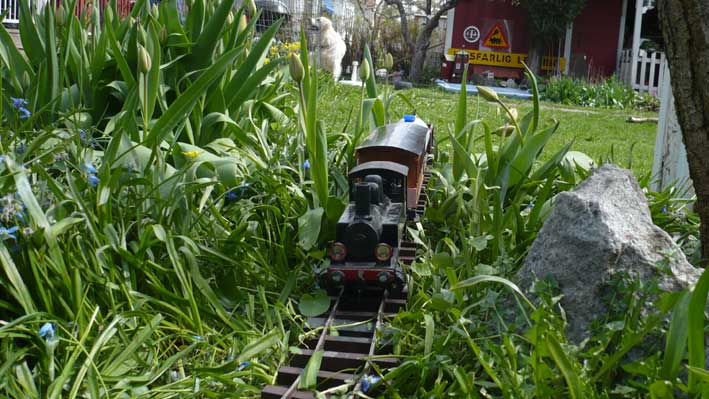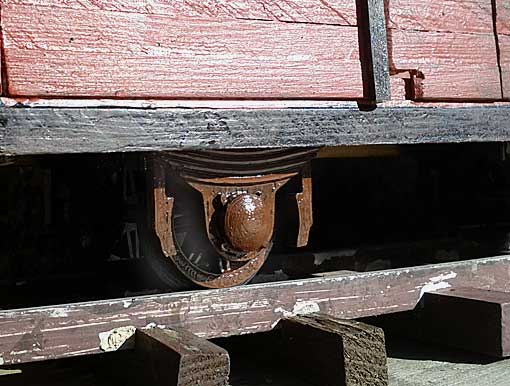 Printade ekerhjul och lagerbox med bromsklossar, ser riktigt bra ut.
3D printed spoke wheels and bearing box with brake pads, looks really good.
2012-03-20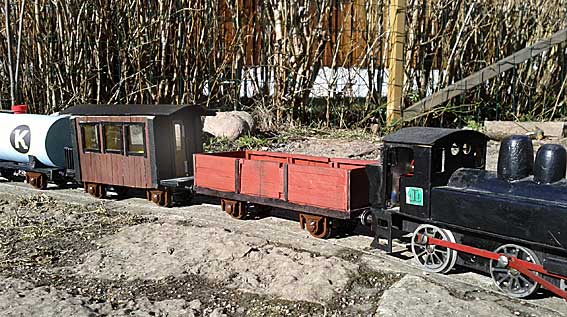 lite körning i vårsolen
trains running in the spring sunshine
2012-02-22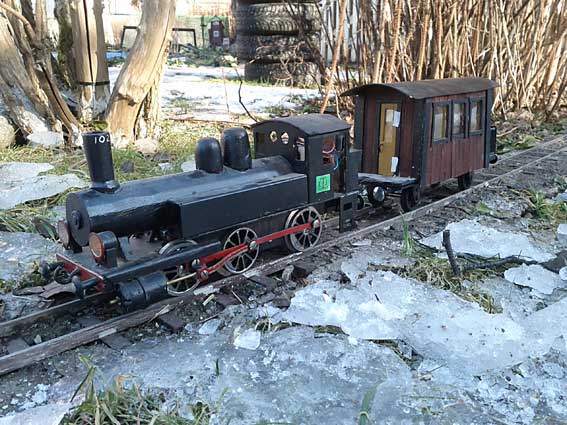 Första körningen i år på den bit som var fri från is.
The first run this year, at the bit that was free of ice.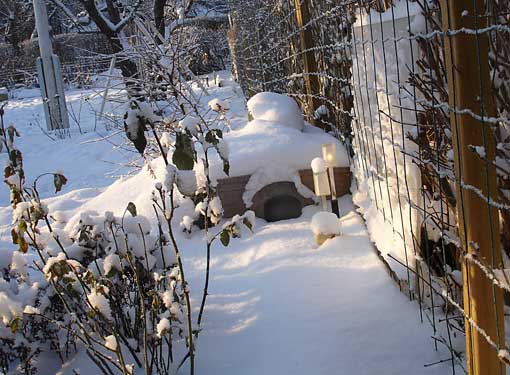 En solig februaridag med lite mer snö. Inga tåg ute
Sunny February day with a little more snow. No trains out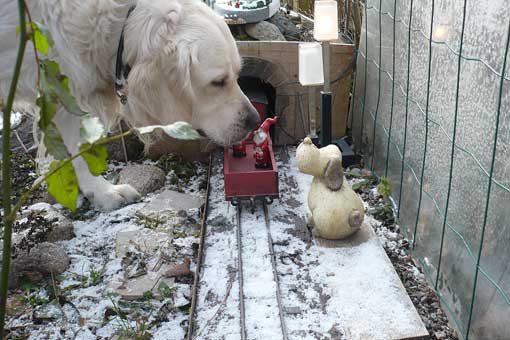 Nu kör vi iväg med julen
2012-01-08
Vattenfallet fruset, så nissarna passar på att åka lite kälke
Waterfall frozen, so the elves take the opportunity to push the sled on the ice
2011-04-20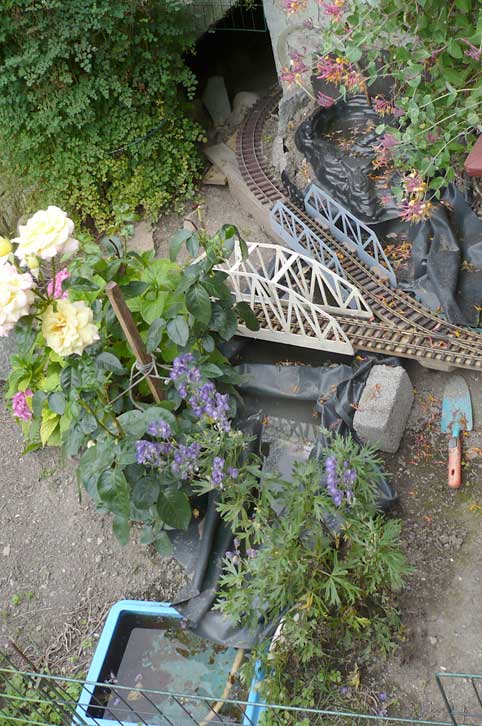 Utökning av uteplatsen, fick till följd att vi inte längre kunde ha spåret som går runt huset
att gå under bron. Utan det fick bli så här. Nu får vi hitta på något annat, ett vattendrag kanske.
Så får det bli Nu håller vi på att få ordning på forsar och flöden,
Extension of the patio, we could no longer have the track, that goes around the house. to go under the bridge. It got to be like this.
Det var lite pyssel med att lägga om spåren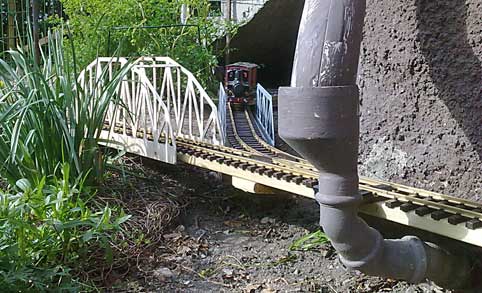 There was some work with adding new tracks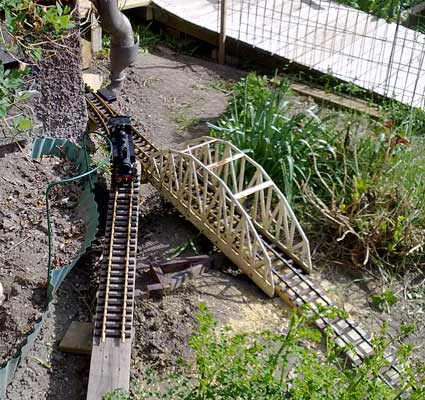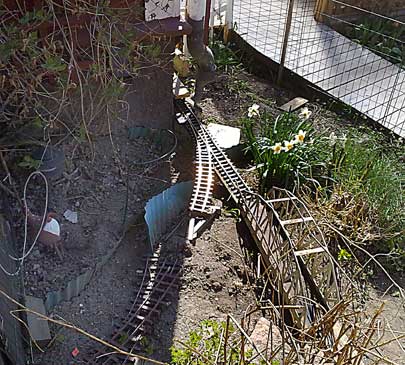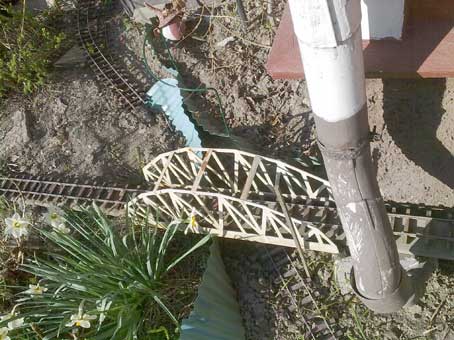 Det var en lång vinter 2011 åxså , Bild från Januari