- - - - - - - - - - - - - - - - - - - - - - - - - - - - - - - - - - - - - - - - - - - - - - - - -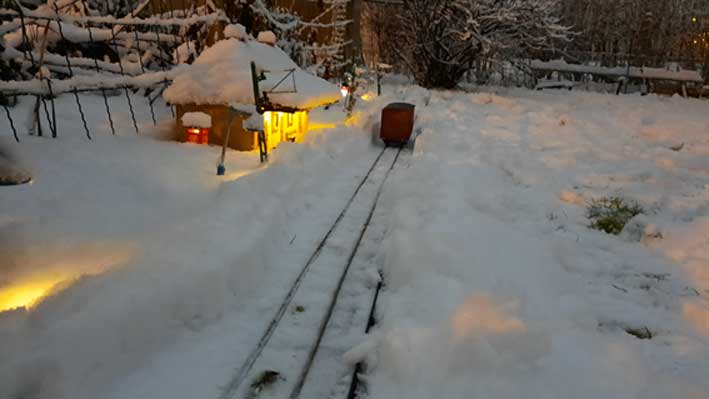 Winter in Stockholm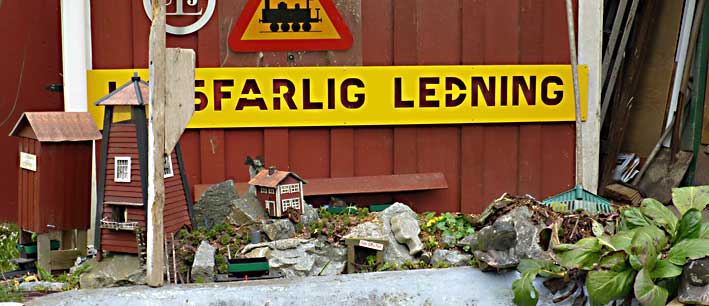 ----------------------------------------------------------------------------------------------------------------------------------------
There is a group on facebook that 3D prints trains they call themselves. / 3D Printing for Model Trains /
----------------------------------------------------------------------------------------------------------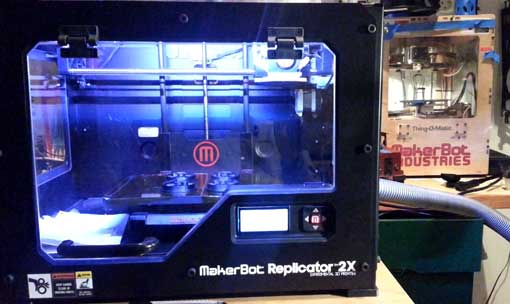 Vi har från hösten 2011 en 3D skrivare, Thing-O-matic från MakerBot. Efter en del experimenterande, så det första tågrelaterande som vi skrev ut blev Ekerhjul. Nu printar vi, lok vagnar och tillbehör som vi kan ha runt om på banan. Samt detaljer till lok och vagnar. Nu år 2014 har vi uppgraderat till en 3D skrivare, Replicator 2x
The fall of 2011we bought a 3D printer, Thing-O-Matic. And when we got the hang of it. The first we printed out was spoke wheels. Now we prints out, locomotives and wagons. and some small things which we can place in locations around the track and various parts for locomotives and wagons. Now in 2014 we have upgraded to a 3D printer, Replicator 2x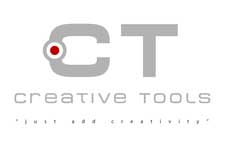 Creative Tools
Den firma som vi köpt våra 3D skrivare hos, nu senast en Replicator 2x.är Creative Tools. En firma som vi gärna rekommenderar
The company that we bought our 3D printer from. Replicator 2x. Creative Tools. A company in Sweden that we are very satisfied with.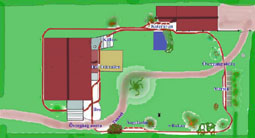 -------------------------------------------------------------------------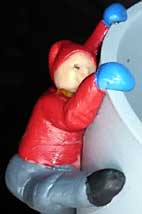 --------------------------------------------------------------------------
Ulvsundabanans Industrispår upprivet September 2006
Vi bygger denna bana efter "eget huvud" i princip från plåt / Plast till ett färdigt lok
---
UlvsundaTrädgårdsJärnväg in English
Vi håller till i Stockholm, Ulvsunda
Vi bygger i skala 1.32 som kallas 1:an. Spårvidden är 45mm. Banans längd är för närvarande ca 105m. Den ligga som två slingor på tomten. Stickspår och mötesspår skall byggas till. Just nu har vi två exemplar av samma lokmodell körklara i grundutförande , de är ej så detaljerade ännu men de "tuffar" på runt banan i alla fall.
Loken har vi byggt av 1 till 1,5mm stålplåt. Daniel ritade upp detaljerna som sedan laserskärs och bockas så att det liknar vår förebild. Därefter kompletterar vi med lokliknade detaljer. För närvarande så går loken med en hastighet samt till eller ifrån. Loken har batterier ombord, det har fungerat bra hittills och man kan köra ganska länge på en laddning. Nu bygger vi lok och vagnar med hjälp av 3D skrivare
Rälsen är gjord av aluminium med rektangulär profil som vi trycker ner i plast / trä syllar, i vilka vi fräst två kanaler. Det har fungerat mycket bra hittills. Vi har nu en rundbana att köra på. samt en slinga runt huset. Från dammen till uteplatsen ligger spåren på trallvirke, med en svag stigning upp till uteplatsen.
Vår modell har SJ:s tanklok K4 som förebild. Detta lok byggdes på Motala Verkstad 1904 och byggdes om 1929. Totalt byggdes det 119 st lok mellan åren 1902 - 1917. På 70-talet köptes loket av Stockholms Ånglokssällskap, som då körde veterantåg med detta lok. Sedan en tid tillbaka står detta lok uppställt med presenningar i väntan på eventuell reparation.

Vi som bygger och donar är
Göran. Gunnel.
Skapad 2002 02 02
---
Frågor, funderingar kontakta. Ulvsunda Trädgårds Järnväg.
Questions, reflections, please contact. Ulvsunda Trädgårds Järnväg.
Vår mailadress är

Our mailaddress.
För att slippa massa skräpmail har jag tagit bort länken till mailet, men adressen är ju rätt behändigt kort så det går snabbt att "knacka" ner.
To avoid a lot of junk mail I have removed the link to the email but the address is quite short, so it's quick to write down.